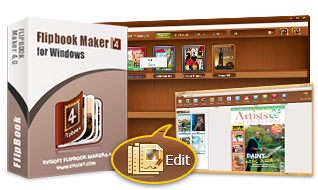 Make PDF Flip Pages Like Printed Magazines in Flash/HTML5
Kvisoft FlipBook Maker Pro, a helpful Flash&HTML5 page turning software, offers you a professional but easy way to design 3D animated flipping pages publications from PDF, Microsoft office documents, images and flash movies. A digital magazine software for anyone to generate digital publishing creations like electronic magazine, flip catalog, page turning ebooks to enhance online presentations.
Make Mobile-friendly HTML5 Digital Magazines
Kvisoft digital magazine maker software can enable you convert PDF to HTML5 page flippable magazine which is of high compatibility with all popular mobile devices: iPad, iPhone, iPod Touch, Android and other portable devices. Your readers can watch videos, browse images, listen music, click links etc on mobile devices just as perfect as reading page turnable publications on computer.
Make Multi-language Digital Publications
To adapt for readers of different countries, you must need to create a multi-language publication. You can import different language versions of a marketing document into Kvisoft digital publishing software, then it will create a digital magazine of multiple languages. So your readers can switch to native language version for easier reading and operating. Preview multilingual magazine here.
Convert PowerPoint/Word/Excel/PDF to Flip Magazine
The PDF page flippable software can convert images, SWF, flash videos and common doc files(PDF, Word, Excel, PowerPoint) to dynamic 3D flash magazines for more impressive and effective online & offline sharing. You don't need to know any flash scripts to make a professional online e-magazine to deliver your tips, brands, products and story to the worldwide.
Realistic Bookcase to Show More Digital Editions
In order to show more relevant information about your page flippable digital magazines, you can make full use of the bookcase feature of Kvisoft e magazine creator. Set the URL and thumbnail, you can easily put similar ebooks or content together on a bookcase to bring your audience a shortcut to know more about your company, products, discounts etc which can increase your brand visibility or ebook sales.
Create Interactive Magazines with Rich Media
Kvisoft Flipbook Maker Pro can create interactive flash page flippable digital magazines with embedded rich media such as dynamic text, bubbles, photo gallery, flash, local movie, YouTube video, music, Flickr picture, shape etc. You can describe your products and service more interactively with multiple illustration means. It allows to define click actions for added media elements: go to page, open link, play video, call Javascript function etc. The digital magazines made by the software will lead more visitors to your website or online store.
Publish for Web/Mobile/Mac/CD
Kvisoft PDF to flash magazine converter supports various publishing formats: flash-based HTML, HTML5, standalone SWF, EXE, APP, Screensaver and video. You can present business information in front of worldwide people via web version flash magazines, HTML5 mobile version(iPad, iPhone, iPod, Android or other portable devices) page turning ebooks, executable Mac App , CD delivery, Screensaver and other types of turning page publications. It's easy to make an online page-flip magazine which is accessible for PC and mobile users, online and offline readers, Windows or Mac users.
Real-time Preview Digital Magazines in Software
What you see is what you get. Once selected a template or customized a setting, you can preview the settings and edits from the preview panel in real time. Besides, Kvisoft electronic publishing software allows you preview the appearance, template, layout etc of your flash flip magazine before actually output it. The powerful preview feature can even simulate the real look and effect what the flipping page magazine looks like on phones or Pads.
Grow Your Brand via PDF Flip Page Software
In Brand Settings, you can add logo/brand along with a clickable link to your page-turn publication, so your audience will be noticed of your logo and brand. In Main Settings, you can name your online magazine in software with a special title and link it to other webpages. This can not only build brand awareness, but also drive visitors to your website or web store.
More Reader-Friendly with Bookmarks and TOC
In Kvisoft digital online magazine creator, you can make your flash magazines more reader-friendly:
Bookmark: ebook author can add bookmarks on specific pages to show their audience the most important news or information; ebook readers can also make their own bookmarks to make notes etc.
Table of Contents: ebook author can make a HTML5&flash flip e-magazine with table of contents so that readers can navigate to specific parts or chapter with only a click.
Full Customization in Theme/Templates/Buttons
Kvisoft PDF flipping page software provides dozens of free yet stunning templates for users to decorate digital magazines. Besides, you can customize nearly all settings like background color and music, toolbar language, cover style, page flip speed, page spine curvature, toolbar buttons and so on. It offers you a chance to customize a stunning magazine which is consistent with your own style, company culture and customer orientation.
Integration with Social Networks
The editions made by our digital publishing software can integrate with popular social network sites. Readers can easily click Share button to share your epublications to their families, friends and colleagues via Facebook, Twitter, Ask, Blogger, WordPress, MySpace and etc. This will help you distribute your page turning ebooks or business publications to more people for engaging sales.
Convenient Projects Management
The project manager of Kvisoft PDF turning page software can save your current and previous projects on bookshelf and sort them by category. So you can quickly access to them for further edits, check, customization etc.
Kvisoft FlipBook Maker Tutorials.
Learn how to use Kvisoft FlipBook Maker from following link

Get Kvisoft FlipBook Maker Pro 4.3.3.0